Coffee Bean Launches 'Friends'-Themed Menu For 25th Anniversary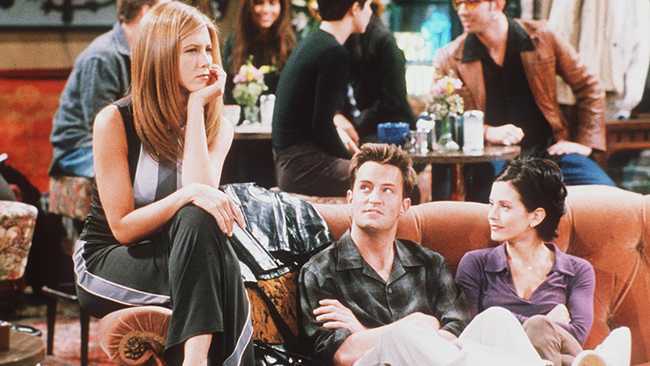 Can you believe its been 25 years since Friends first premiered? In honor of the beloved sitcom's upcoming anniversary, Coffee Bean is launching a bunch of merch and beverages inspired by Friends. Since we can't actually join Monica, Rachel, Phoebe, Chandler, Joey and Ross at Central Perk for a coffee, we can try out this new Coffee Bean collab and binge watch all the episodes on Netflix (before Friends leaves the streaming service, of course). It's the next best thing.
Starting on July 31, Coffee Bean's online store, as well as their brick and mortar retail shops, will have their themed coffees and teas available for purchase. They will be available through the end of the summer, so, make sure you head over and try out the drinks ASAP. Coffee Bean announced the exciting news on Instagram.
"We can finally spill the beans. We're celebrating the 25th anniversary of [Friends] by bringing the Central Perk experience to you with limited-edition coffee, tea, and themed drinkware," the caption reads.
In addition to the beverages, Coffee Bean is selling two Friends-themed mugs. Each mug has text that takes popular quotes from the show and puts a coffee-flavored spin on them. One mug reads "we were on a coffee break," while the other reads "how you brewin'?"
If you visit your local Coffee Bean on August 4 (aka National Friendship Day), you will be able to take advantage of their limited time Buy-One-Get-One-Free (BOGO) special in honor of the special day. For one week, customers that buy one of the Friends-themed beverages will receive another free Friends-themed drink to share with a friend.
Here's the full Friends-themed menu:
Central Perk Medium Roast
Central Perk Dark Roast
Central Perk Tea
The Joey (Mango Cold Brew Tea)
The Monica (Midnight Mocha Cold Brew)
The Rachel (Matcha Latte)
The Ross (Classic Flat White)
The Chandler (Caramel Coconut Latte)
The Phoebe (Cookies and Cream Ice Blended)
Which one will you be trying? The Phoebe sounds like an excellent summer treat!
Photo: Getty